PCM Award – We Won!
01 August 2023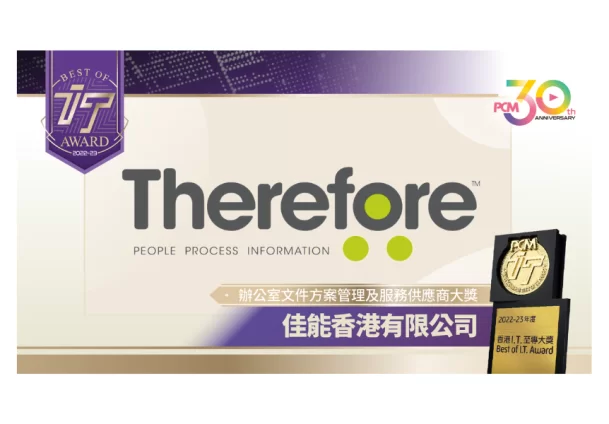 Therefore™ has won an award! This time, we are being honored by PCM, a 30 year old, professional technology magazine based out of Hong Kong. The award was presented to Canon Hong Kong Limited in recognition of Therefore™ information management system.
Below are details about PCM, the award, and a translated copy of the article honoring Therefore™.
We hope you join us in celebrating the recognition Therefore™ continues to receive across the globe. We are very grateful for the efforts of everyone who made this possible. Congratulations!
Click here to see the original award page.
Publisher: PCM
Award Event: PCM "Best of IT" Awards (22-23)
Award Received: "IT Special Office File Solution Management and Service Provider Award"
Presented to: Canon Hong Kong Limited (Therefore™)
EVENT DETAILS:
PCM has been published for 30 years and has always been the most professional computer and digital magazine in [Hong Kong]. Every year, the "Hong Kong IT Expert Awards" is held for professionals and readers to select the most popular technology products and services. This year, it entered the 19th session. The purpose is to encourage and promote the continuous development of the computer digital technology industry and improve human life with better technology products and services. Through the event, the technological products and professional services that have been well recognized by users and the market in the past year are commended and professionally affirmed.
Article
Document management has always been one of the most time-consuming daily tasks for businesses but must be done properly. With the development of digitalization, the benefits of electronic documents are self-evident, especially considering today's popular hybrid working model. Through efficient document management solutions, employees can safely store and share required documents anytime and anywhere to cope with constant changes within the business environment. Canon/Therefore™ has spared no effort in the development of document management, extending the continuous development of the company's image processing technology strengths, such as integration with Therefore™ Online to provide a one-stop cloud digital work platform, digitize documents, automatically classify, and create indexes through photocopier scanning, which is convenient for users to search, view and share.
Therefore™ Online keeps pace with the times, introduces AI technology and provides Smart Capture function, intelligently captures document data, such as invoices, automatically extracts useful data from invoices in different formats and does not need to set templates, and compiles indexes within minutes, import data directly into the system, thereby increasing employee productivity and efficiency while reducing the chance of human input errors. The solution can also be connected to third-party platforms to meet the needs of enterprises to add more value-added services, such as using Microsoft PowerBI for in-depth analysis to understand the company's operating conditions in real time.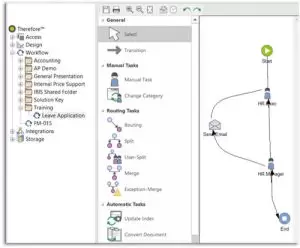 Users can set up their own workflow on Therefore™ Online, the process does not require coding, and the graphical process design diagram is suitable for beginners.
Therefore™ Online is equipped with an electronic form function. Enterprises can enjoy the convenience of electronic forms without additional costs. For example, the human resources department is used to recruit employees, and the simple process is set up through electronic forms. When an applicant submits the form, the system can automatically send an email to the designated person, including replying to the applicant to confirm receipt of the application, and notifying the supervisor of the relevant department, etc. Electronic forms can even help speed up the work and approval process if combined with workflow automation solutions (RPA).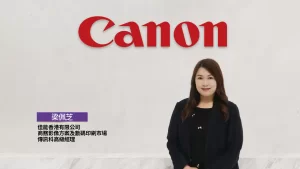 Canon's document management solution, Therefore™ Online, provides enterprises with the convenience of document management. It is more integrated into business processes, enterprise knowledge management and other technologies, and focuses on document and data security. Canon Hong Kong Commercial Imaging Solution and Digital Printing Marketing Communications Senior Manager Leung Peggy pointed out that there are more and more data security regulations, and they are becoming stricter, just like the European Union's General Data Protection Regulation (GDPR). As long as there are customers in Europe, they are also regulated by laws and regulations. Therefore™ Online is one of the few document management solutions that has obtained relevant certification. Enterprises can rest assured that all data related to customers complies with regulatory requirements.
At the same time, Therefore™ Online operates on the Microsoft Azure cloud platform, and its infrastructure structure has been protected by a large cloud. Coupled with Canon/Therefore™'s self-built backup system, enterprises use cloud applications with doubled security performance in disguise to further protect file and data security. appropriate. Furthermore, Therefore™ Online can securely store documents for users and set permission settings, such as audit records, version control, electronic signature and file locking, etc., to ensure that user information will not be accessed without authorization.
Therefore™ Online also breaks the image of document management as difficult and out of reach. Through the simple operation interface, ordinary users can also create document processes by dragging and dropping, without the need for a dedicated IT specialist. At the same time, the solution provides services on a subscription basis, allowing SMEs to enjoy the benefits of document management at an affordable price.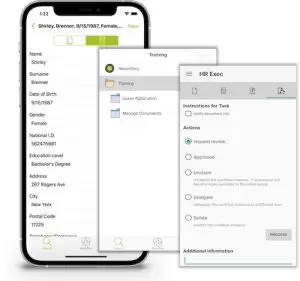 Therefore™ GO mobile application allows users to access documents and conduct approval processes anytime, anywhere, and supports more than 400 document formats to meet the needs of today's mobile work.

Therefore™ Online provides comprehensive management functions such as file access, search, and indexing. All file access and modification records are clear at a glance, which is beneficial for enterprises to effectively manage information.
Therefore™ Online is the core solution of Canon's document management. In terms of document processing, there are also solutions such as AI Contract smart contract management, output management and cloud flow, which allow enterprises to easily cope with the digital age. While improving productivity, they can also create more business.