Therefore™ Ranked #1 for Workflow Automation in 2022 Buyer's Guide by SoftwareReviews
15 November 2022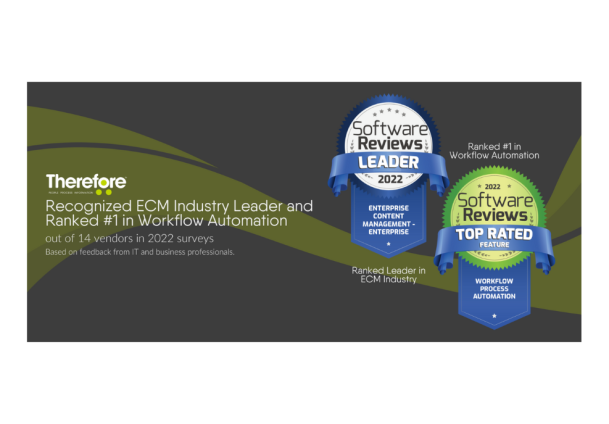 SoftwareReviews, a division of Info-Tech Research Group, has released their long anticipated 2022 review of the ECM industry product offerings. They looked at over 14 different ECM systems on the market today and rigorously collected qualitative and quantitative data points from real end users, business, and IT professionals.
SoftwareReviews' "comprehensive reviews are the most in-depth source of buyer data and insights for the enterprise software market."
Therefore™ information management software earned a spot as a "Leader" in the SoftwareReviews Data Quadrant, indicating Therefore™ excels at providing both product features and satisfaction AND quality vendor experience and capabilities.
Additionally, Therefore™ also ranked #1 in workflow automation, or "the extent to and ease of which actions within the system can be configured to be performed automatically." This is a great recognition of the efforts of our development team. Workflow automation continues to be an incredibly useful tool across industries and departments, and we are proud to continue offering you the #1 workflow automation on the market.
We did well in many other categories, read about them here: https://therefore.net/softwarereviews-2022-12-categories/
To learn more, check out the video and graphics below or visit https://www.softwarereviews.com/products/canon-therefore